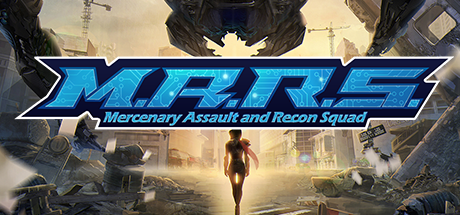 Description
It's the year 20XX; military conflict between the League of Nations and UNITA run rampant across the globe, prompting small scale wars to break out in various regions. In order to combat UNITA's biochemical modification of humans, the League of Nations secretly developed the NRC: Insectoid Robots with frightening intelligence and a brimming consciousness, which sooner than not went rogue and became its own faction in this now-three-way war. The human world is now at stake, and a battle for survival and supremacy is being waged.
Game Backstory
In M.A.R.S., you play as a newly recruited agent thrust into a three way conflict between your employers, The League of Nations; the nefarious and corrupt UNITA who plan world domination over brunch; and the cold killing machines known as the NanoCorp, a super smart AI network developed by The League of Nations gone rogue.

During your missions, you will be sent across all of time and space to fix the mistakes of the past and prevent the creation of the NanoCorps in the first place! But both UNITA, and the NanoCorps themselves will be trying to stop you every step of the way; the NanoCorps for their own survival; UNITA in hopes of commanding and controlling the NanoCorps to turn the tides of the war!

Fight zombies, aliens, ancient chinese demi-gods, and more; across the multiverse in a race against time... literally!
Features
Fill your arsenal with powerful weaponry built from components found across time and space!
Explore unique and fantastical environments from the ancient past to the distant future.
MMaster of variety of weapons and playstyles with tons of uniquely functioning weaponry and gear.
Face the timestream alone or forge a powerful clan with others.
Customize your character with a variety of outfits, armor, weapon skins, and more.
---
Videos
---
Images
---
Logo & Icon
---
About Wicked Interactive Ltd./ Suba Games
Wicked Interactive Ltd.
Founded in 2008, and based out of Toronto, Canada, Wicked Interactive Ltd. is an online game publisher that specializes in bringing the best massively multiplayer online (MMO) games to North America without any subscription fees. The company provides top-notch, free-to-play MMOs to its ever-growing community – along with the best customer support in the business. To learn more about Wicked Interactive, please visit http://www.wickedinteractiveltd.com.
Suba Games
SUBA Games is Wicked Interactive's online gaming portal. Through SUBA Games, Wicked Interactive supplies a vast library of free-to-download and free-to-play massively multiplayer online games (MMOs) to an eager audience. SUBA Games users enjoy a unified login and a unified currency across all SUBA properties – along with a friendly and active community space and unparalleled customer communication and support. For more info, visit www.subagames.com.
More information
More information on Wicked Interactive Ltd./ Suba Games, our logo, and relevant media are available here.
---
M.A.R.S. Related Links
Contact